Let's talk about Risk Management – How Dumbbells became the new toilet paper – Part 2 – September 30th
 Event Program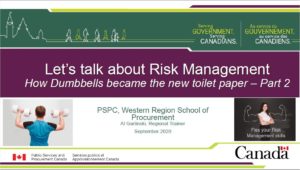 Speaker:
Al Garlinski is the Regional Trainer for the School of Procurement, Business Advisory Services, Western Region, Public Services Procurement Canada (PSPC)
He is a seasoned procurement expert with over 33 years of government procurement experience with a vast array of experience across a number of commodities, all with PSPC. He currently coaches and mentors students under the School of Procurement program, from the University of Alberta, University of Manitoba, Mount Royal University and MacEwan University. He has been nominated twice and awarded the "Mentor of The Year" for the University of Alberta School of Business program in 2019.
He is currently a faculty member for the University of Winnipeg and Supply Chain Canada.
He earned his professional designation in Supply Chain Management with Supply Chain Canada and was awarded the prestigious Fellowship designation for his lifetime commitment with teaching, coaching and mentoring. He also has a professional designation with the Institute of Supply Management from Tempe, Arizona. Al is a tireless animal rescue advocate, and founder of IRun4rescue, a running team committed to making a difference in the lives of animals. Al is a Canadian long-distance runner. He has run in long-distance running adventures in several countries, and unique locations, including Iceland, The Grand Canyon, trekking the volcanoes of Nicaragua, climbing Mt Jacinto in California, to running across Lake Manitoba.
He openly shares his struggles with anxiety and shatters the stigma around mental illness and is an advocate for the mental health community.
Date: September 30th, 2020
Time: 12:00 pm – 1:00 pm
Webinar Overview:
The Government of Canada Procurement Competency Profiles have been updated to include 5 new technical competencies: Business Acumen; Data Analytics; Negotiations; Project Management and Risk Management. Take charge of your procurement career by attending this learning event.
Risk management principles are applied to all stages of the procurement process, where we assess and control threats that affect the results. The result is making evidence-based decisions when assuming, avoiding, transferring, mitigating sharing and compensating elements of risk.
Please join Al Garlinski, as he shares part 2 of his story on the difficulty of finding fitness equipment for his home gym during the COVID-19 situation and how it led to a valuable lesson learned about the importance of risk management awareness that can be applied to procurement in the workplace. With this newfound awareness, the procurement professional should be able to:
Think creatively, strategize, and synthesize information.
Collaborate and partner
Be proactive and offer innovative solutions
Power point slides
Let's talk about Risk Management – How Dumbbells became the new toilet paper – Part 2 – September 30th