Using Digital Signature…What's in it for me, you…us?!?
 Event Program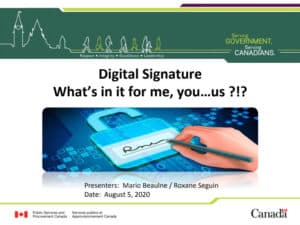 Speakers: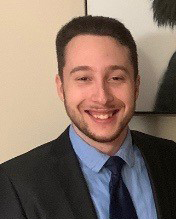 Taylor Komery is a trainer within the Strategic Procurement Division (SPD) at the Canada Border Services Agency (CBSA) starting in 2019. Taylor started at CBSA as a student in 2016. He started as a student procurement officer and quickly was accustomed to the agency's financial system and various systems in use. Since then, he has helped lead various training sessions on the tools that PGs must use at CBSA and created training material. He also helped with GCdocs and the related business processes to get the SPD to a paperless environment. He then helped kick start the initiative to go completely paperless by implementing E-signatures.  After that, he then joined into the newly formed Training Unit within SPD that leads a multitude of training sessions that are dedicated to the PGs at CBSA.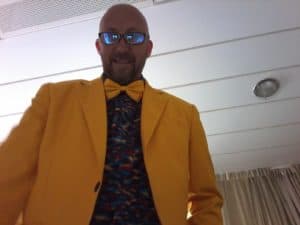 Mario Beaulne, Senior Manager, Financial and Administration Branch, PSPC
Mario Beaulne, Senior Manager is a Procurement and Materiel Management expert with over 35 years of experience as a public servant.  I worked in 7 departments.  Started my career at Federal Court of Canada back in 1985 and then moved on to Natural Resources Canada, HRDC / Service Canada, Indians and Northern Affairs, Global Affairs, Treasury Board and finally Public Services and Procurement Canada (PSPC).  As the Ambassador of Change, I led various projects mainly the transformation of modernization of procurement.  For the past years, I devoted my expertise to implement the utilization of the digital signature and changing the way we work: leading several greening initiative. Reducing paper, implementing paperless environment and more.  At PSPC, since 2015 has supported, developed, implemented and led the usage of the digital signature within various stage.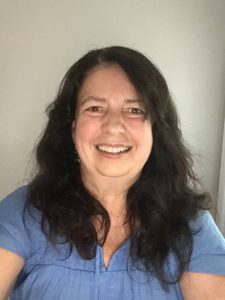 Roxane Seguin, Ambassador of Change and Transformation, Finance and Administration Branch, PSPC
Roxane Seguin has joined PSPC back in March 2016.  It was a drastic career change from a 25 year Telecommunication Expert spanning from PWGSC, TBS and CBSA into the complex world of procurement.  However, an opportunity present itself to become an Ambassador of Change and Transformation, and a participation to the change management model Prosci ADKAR.  All of a sudden, I had found my footing again.  Regardless of my expertise, I had always been in leadership role and looking for new ways of doing business.  This was going to be exciting! Over the past four (4) years, I have successfully lead a team towards a paperless environment and a greening awareness with the implementation of the digital signature (s.41).  Furthermore, I am co-leading a digital signature initiative for the endorsement of the new business practice for departmental-wide procurement activities.  The COVID-19 situation has propelled forward the digital way of doing business. 
Date: August 5, 2020
Time: 12:00 PM
Webinar Overview:
E-signatures is a rising need especially during the current time we are all in. This session will be covering how the Canada Border Services Agency was able to implement E-signatures within their procurement division and the brief journey it took to get there. It will also touch on how this enabled the group to go completely paperless. 
Power point slides
Using Digital Signature…What's in it for me, you…us?!?

CBSA E-signatures | Signatures électronique de l'ASFC