Imagining the office in the Federal space post COVID-19 and Planning for a Safe Return to the Office
 Event Program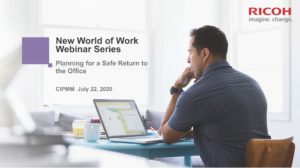 Speakers:

Steve Smith, Director, Services Portfolio, Ricoh Canada
Steve is a successful B2B sales and marketing leader with two decades of experience bringing new services to market.  Actively involved in the Analyst community, Steve brings thought leadership to Ricoh's Services portfolios.  Steve's team has expertise in Managed Services, Content Services and Software, Communications Services and Software and Document Processing Services.

John Kingan, Branch Manager – Federal Government Accounts
John is a seasoned sales and marketing leader with over 25 years of experience in the office equipment industry. Spending the last two decades managing teams providing various services to the Federal Government, John brings a unique expertise and awareness to the GC clients.

Michael Costa, Services Portfolio Manager, Ricoh Canada
With over 20 years' experience managing some of Canada's largest B2B portfolios, he leads Ricoh Canada's Managed Services portfolio. As a subject matter expert, he champions using technology to drive cost-effective process' to yield optimal business results for our customers. Currently he's focused on enabling our customer's safe return to the office and engaging technology to make this transition possible.

Amrit Sandhu, Vice President, Human Resources, Ricoh Canada
A seasoned HR executive, Amrit oversees Ricoh's Human Resources strategy from leadership development to employee relations, succession planning to diversity and learning. He believes in applying the principles of organizational effectiveness to solve business challenges and drive change from within.
Date: July 22, 2020
Time: 12:00 pm – 1:00 pm
Webinar Overview:
The office will need to look and operate differently. Capacity planning, physical distancing, contact tracing, and touchless interactions are now in the forefront of office planning to allow for a safe return to the office.
The right strategy, procedures and supporting technology can help keep your employees safe.
In this webinar, our presenter panel will discuss:
How to design your strategy.
How to promote social distancing in an office environment.
How to apply engineering controls in the physical space.
Technologies you can use to support a safe working environment.
Power point slides
Imagining the office in the Federal space post COVID-19 and Planning for a Safe Return to the Office