The Future of Procurement
 Event Program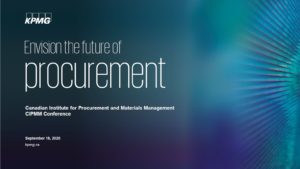 Speakers:
Jérôme Thirion, Partner and National Leader, Supply Chain Management, for KPMG Canada
Jérôme is leading the supply chain & procurement management consulting team at KPMG Canada, he is a permanent steering committee member of the Global Center of Excellence. Prior to joining KPMG, Jérôme held supply chain management positions in the industry. He is helping his clients to digitize their operations, and to position the supply chain as a strategic lever for growth. As a trusted advisor to senior leadership, Jérôme takes a pragmatic approach to gain alignment and increase adoption of new practices from the within and the supplier community.
Date: September 16th, 2020
Time: 12:00 pm – 1:00 pm
Webinar Overview:
Given the current context and external forces, chief procurement officers must ask themselves "What will the role of procurement be? Is there one?"
Enabling user friendly processes, policies and procedures, harnessing broad data sets to drive automation and analytics, and empowering self-service across all processes to do more with less are just some of the disruptions that are quickly making their way into each organization. How can you prepare for the future of procurement?
Power point slides
The Future of Procurement

CIPMM Supplier Enablement key considerations

COVID-19 Supplier Risk Supply Chain Stress-Testiing