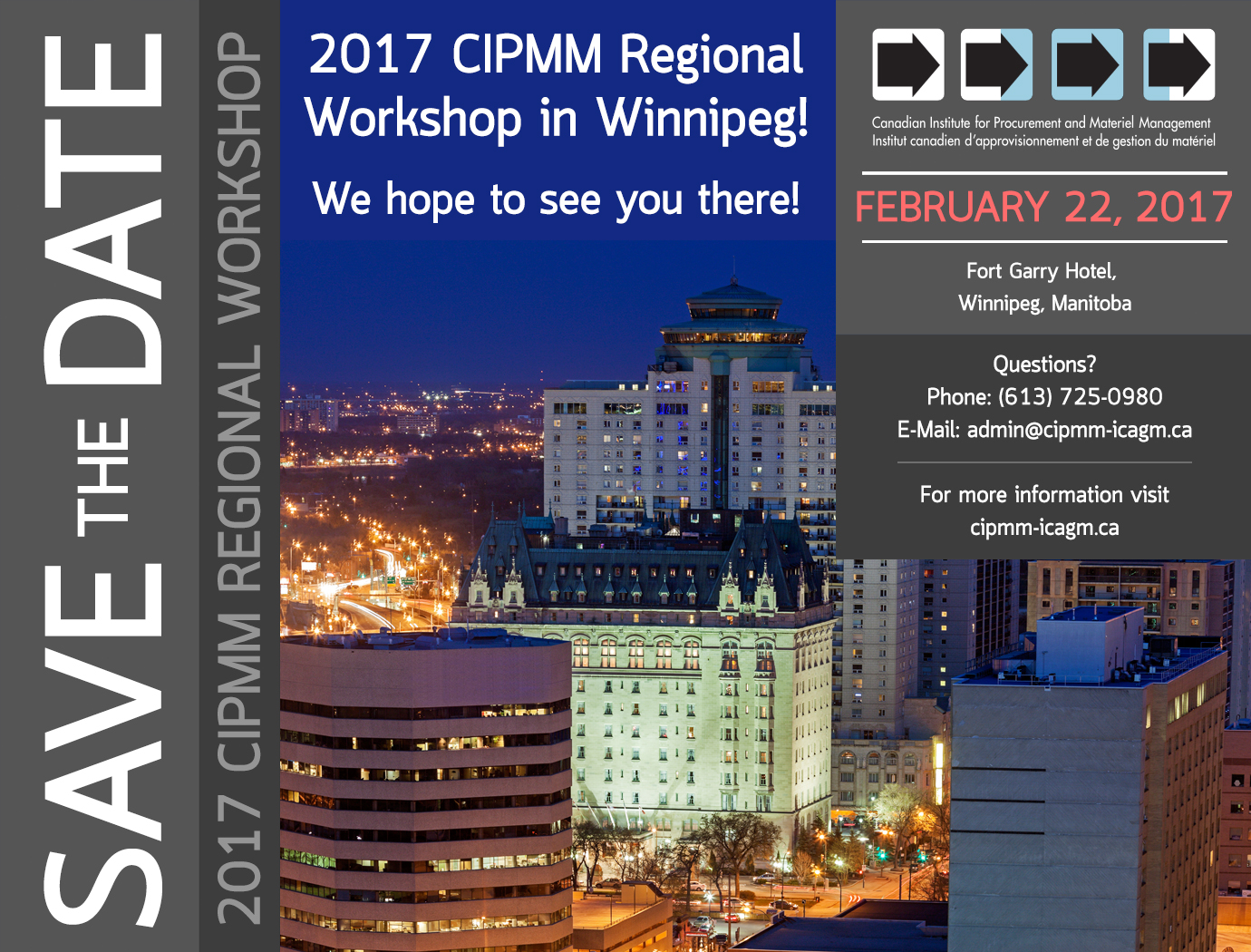 We are coming to the Canadian Prairies!
CIPMM is hosting a one day Workshop at The Fort Garry Hotel in Winnipeg on February 22, 2017. It will be a wonderful opportunity for the procurement, materiel and fleet management professionals, living and working in the prairies, to gain important insights, share experiences, and exchange ideas about the latest developments in the procurement and materiel management. This one-day Workshop will offer a combination of "hot topics" presentations and insightful keynote sessions, as well as great opportunities to network, ask questions, interact with speakers and engage your peers in discussions. Don't let these opportunities pass you by!


CIPMM is partnering with the Canada School of Public Service to offer a course!
CIPMM is pleased to announce that we have partnered with the Canada School of Public Service to provide a private course offering to attendees of our Winnipeg Regional Workshop.
Fundamentals 2: The Legal and Policy Environment for Procurement, Materiel Management and Real Property (M714) will be offered adjacent to the Regional Workshop, on February 23-24, 2017. Not only is this course one of the five that are required training for procurement and materiel management functional specialists, but it is also one of the courses required for certification under the Certification Program for the Federal Government Procurement and Materiel Management Communities.
Specialists in the fields of procurement, materiel management and real property (PMMRP) should be aware of the legal, regulatory and policy framework that govern their work in support of government program delivery. This course provides an overview of the acts, regulations, policies, directives, and national and international trade agreements, as well as other instruments related to all three communities of PMMRP. Participants will learn how the three communities interact with one another and examine the impact that decisions and actions taken in one community have on other communities.
This course is in high demand in the region and priority will be given to participants of the CIPMM Regional Workshop. Register for the Workshop now and take advantage of the opportunity to attend not one, but two high-quality learning events!
Download Partnership Program and Form